Be an eSafe kid: Be safe, be supportive
Fri September 9, 2022 @ 9:30 am

-

10:30 am

|

Recurring Event

(See all)

One event on Tue September 6, 2022 at 2:00 pm

One event on Thu September 8, 2022 at 9:30 am

One event on Fri September 9, 2022 at 9:30 am

Free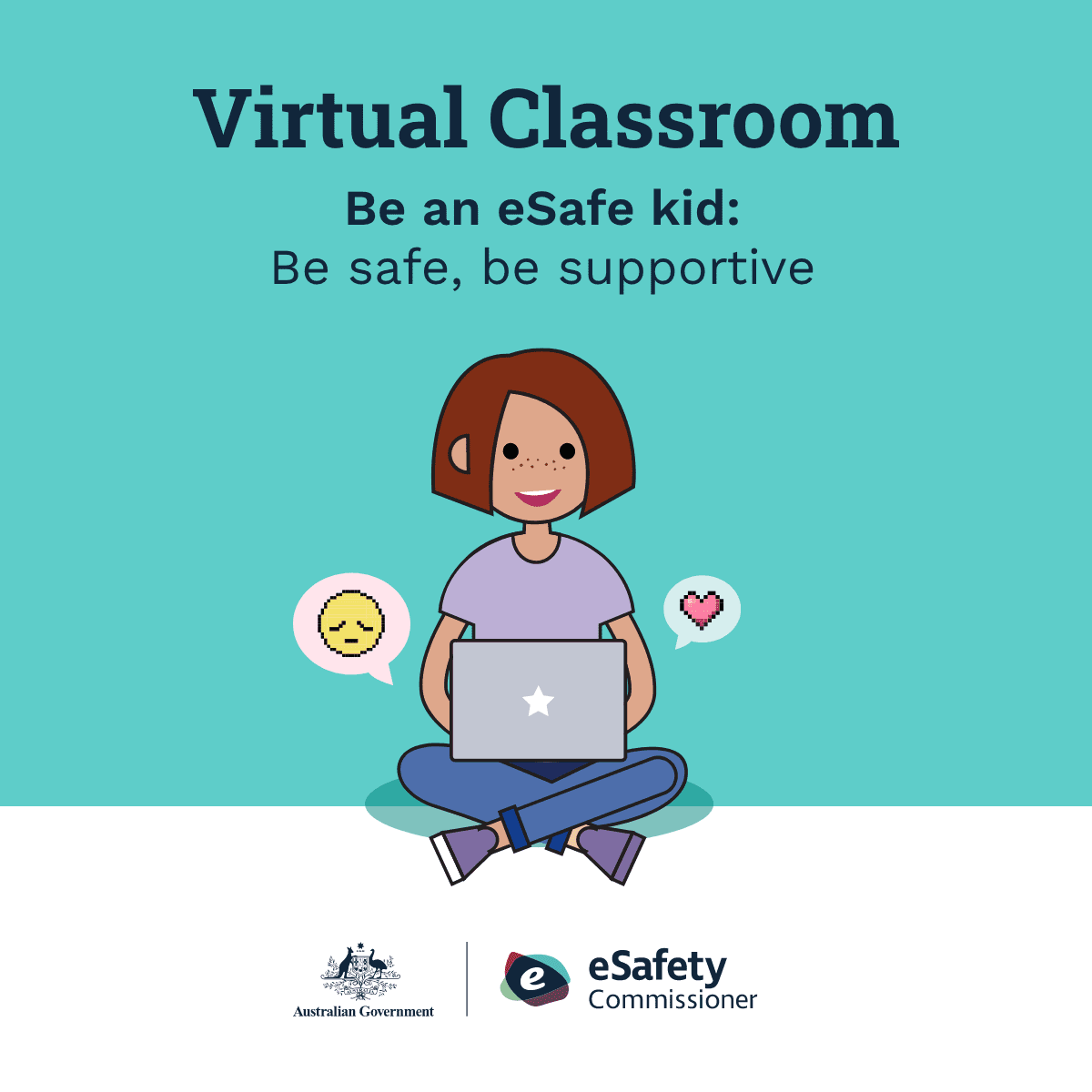 About this resource
A live Virtual Classroom webinar to support students to interact safely online.
Target audience
Level
Middle primary, Upper primary
Keywords
Safe, supportive, consent, permission, boundaries, choice, refusal skills, respect, personal information.
Type of resource
Live virtual classroom event, teacher notes, student worksheet, student follow-up activities
Timeframe
45-minute webinar
Australian curriculum
This activity will address the following Australian curriculum outcomes:
Health and Physical Education
AC9HP6P08 analyse and rehearse protective behaviours and help-seeking strategies that can be used in a range of online and offline situations.
Digital Technologies
AC9TDI4P08 access their school account using a memorised password and explain why it should be easy to remember, but hard for others to guess.
AC9TDI6P09 access multiple personal accounts using unique passphrases and explain the risks of password re-use.
English
AC9E3LE02 discuss connections between personal experiences and character experiences in literary texts and share personal preferences.
Using this resource
By the end of the learning students will be able to:
describe what it means to be safe online
identify personal online safety boundaries
recognise strategies to support others
recall protective behaviours, reporting skills and help-seeking strategies.
Students will participate in a live video lesson with an eSafety expert who will talk through a slide deck. Students can complete the worksheet during the presentation and explore optional follow-up activities listed in the lesson plan.
This resource is a starting point to discuss online safety. You may need to explain some concepts or extend the themes to suit the level of your students.
Please note: We request that teachers only register their classes for these webinars. Individual student registration will not be accepted as connections to the online platform are limited. Schools can register for any open session hosted by eSafety or a session hosted by your school jurisdiction.
For more information about this Virtual Classroom, please contact outreach@esafety.gov.au.
Open sessions available to all State, Catholic and Independent schools (AEST)
Monday 5 September 2022 at 9:30 to 10:15 am
Tuesday 6 September 2022 at 2:00 to 2:45 pm
Thursday 8 September 2022 at 9:30 to 10:15 am
Friday 9 September 2022 at 9:30 to 10:15 am
Tuesday 13 September 2022 at 2:00 to 2:45 pm
Thursday 15 September 2022 at 9:30 to 10:15 am