Man With A Pram – Toowoomba
Sun September 5, 2021 @ 9:30 am

-

11:00 am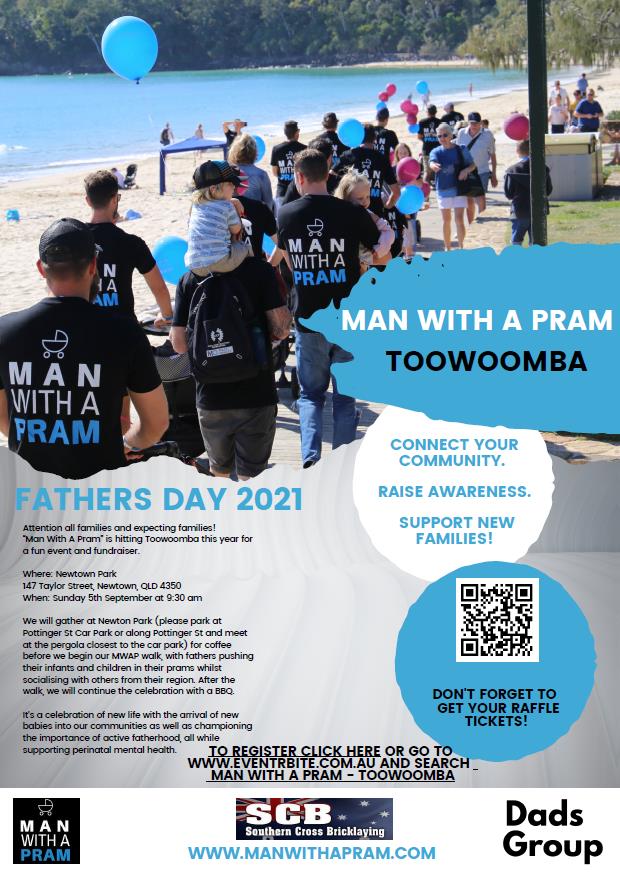 The inaugural Toowoomba Man With A Pram event is happening on Father's Day, Sunday 5/9/21 at Newtown Park at 930am with free coffee, sausage sizzle and drinks.
This free event brings fathers, families and friends together on Father's Day for a walk and community event to combat isolation and bring community together. This year focuses on Perinatal mental health for fathers! We aim to bring forward state and national public dialogue through this event. We hope that the event will be a stage both this year and in the years to come to change the culture of fatherhood both from a community support perspective as well as a health and social service system perspective. There are currently 23 Man with a Pram events being held across the Nation on Father's Day.
Our Toowoomba Man with a Pram event is being run by Toowoomba Dads Group. Dads Group is a free support place for dads in the region. Toowoomba Dads Group has weekly catch-ups for dads and their kids, we present regularly to the Toowoomba Base Hospital and St Vincent's Hospital Antenatal classes and offer support for dads and their families when they need it.
Dads Group Nationally coordinates local Dads Groups and holds free daily Zoom sessions for dads. Dads Group is a non-judgemental support group for dads, hoping to build family resilience through respectful and healthy relationships,
Related Events