ChildSafe 15 Year Birthday fundraising breakfast
Fri September 10, 2021 @ 6:45 am

-

9:00 am

$90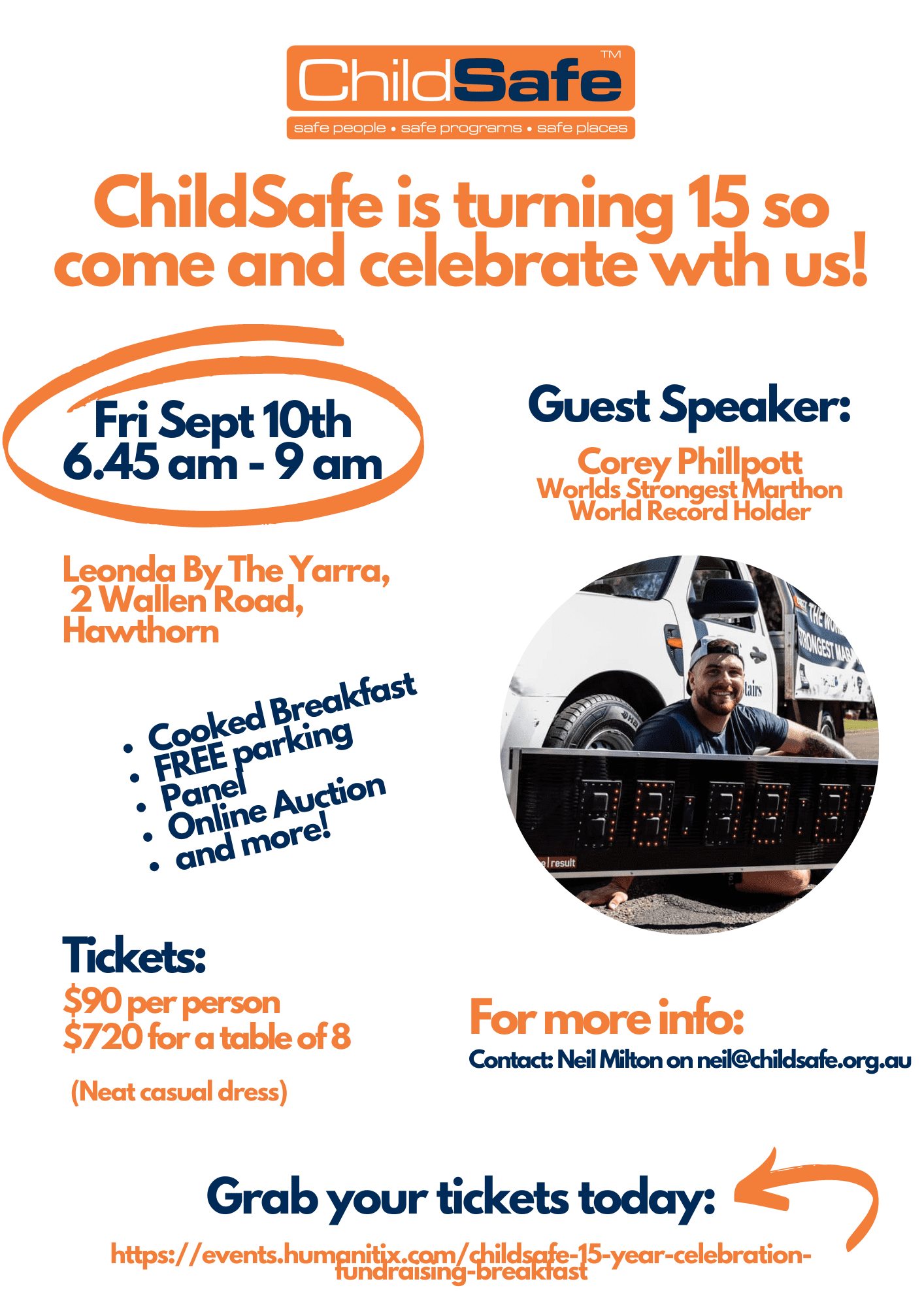 ChildSafe 15 Year Celebration Fundraising Breakfast:
We are so excited this year for our ChildSafe Fundraising Breakfast as it is also celebrating our 15 year birthday.
Details:
Friday, Sept 10th, 2021 6.45 am – 9 am with complimentary FREE parking at Leonda By the Yarra.
This year's focus will be on Body Safety and Consent. This is a huge topic in the media at the moment and it's important we weigh into the conversation. The media are focused on Consent being taught in schools at year 10 but we believe it is way too late. We must be empowering children as young as pre-school so they know that they have a voice and are able to speak up if they don't feel safe.
Where will the money go?
All money raised will go towards helping organisations to be able to access the ChildSafe face-to-face or webinar style Body Safety and Consent Training and resources (valued at $980) for FREE. Also developing indigenous resources on Body Safety and Consent.
Who will be speaking at the event:
Introducing Corey Phillpott. Corey is the Worlds Strongest Marathon World Record Holder after pulling a 1.5tonne Ford Ranger Ute 42.2km in 16 hours, 22 minutes and 23 seconds. This wasn't just for fun, he did it to raise awareness for the prevention of child abuse after his wife revealed she had experienced sexual abuse as a child. He raised over $30,000 for ChildSafe in the process and gathered 1000's of followers in the process. His story is so inspiring and we are so grateful for him giving his time for this event.
We will also have a panel of guests including:
Jayneen Sanders – Body Safety and Consent Education expert, Child Safety Educator and principal
Our MC will be Bruce Argyle (head of Bendigo Bank NFP arm).
What does the $90 p/h get you:
FREE Parking
Pastries
Tea and coffee
Cooked Breakfast
Can I bring my friends?
Yes, you can. We are accepting tables of 8 or you can come as an individual and we will place you on a table.
What do I wear?
Neat casual, please