Public Service Association salutes our members who work in Child Protection.
Wed September 9, 2020 @ 10:00 am

-

1:00 pm

Free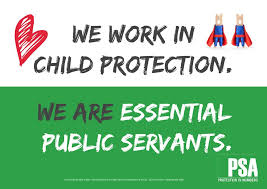 THANK YOU LUNCH FOR PSA WORKSITE REPS AND ANNOUNCEMENT OF CHILD PROTECTION REP OF THE YEAR

During the week the PSA will be promoting your work on facebook and holding a special celebration lunch for your worksite reps where we will be announcing the Child Protection Worksite Rep of the Year.
We thank and applaud your enormous effort in what is challenging but vital work.
Please make the time this week to reflect on what you do and the positive changes you and your colleagues make to our society and the well being of children. Why not treat yourself to something special?
Its also a great opportunity to encourage your colleagues to join the union so the voice of Child Protection can continue to be strong and united. Pass this email on to them and ask them to be a member of their union. They can join easily on line here https://psaofsa.asn.au/

The PSA salutes our members in Child Protection!