North Queensland Child Protection Symposium – Webinar
Wed September 9, 2020 @ 10:00 am

-

12:00 pm

Free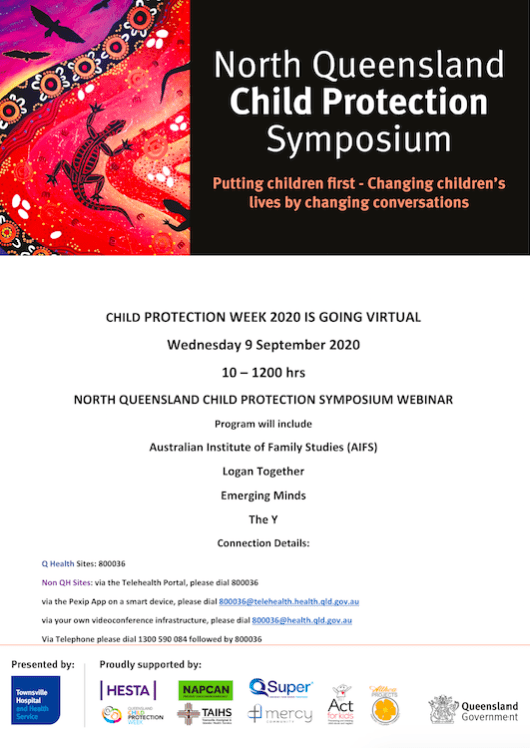 This year the North Queensland Child Protection Symposium has gone online.
Focussed on the theme Putting Children First, speakers include: 
Nicky Paterson,

Australian Institute of Family Studies (AIFS)

– Research and recommendations on how we can work together to keep improving cross-sectoral relationships between child protection and child and family welfare practitioners. 

Karen Murphy,

Logan Together –

Experience and learnings from Logan Together's collective impact program and how the program has been 'putting children first'.

Ruby Awram,

Emerging Minds

–

Tools and resources to help practitioners, parents and carers to best support children's mental health during events such as COVID-19.

Phil Doorgachurn, The Y – How the Y engaged children and young people to co-design their Stay Safe, Tell Someone Program and how the program uses nudge theory to change societal behaviour in responding to child abuse.
Log on to the webinar via:
Q Health Sites: 800036
Non QH Sites: via the Telehealth Portal, please dial 800036
via the Pexip App on a smart device, please dial 800036@telehealth.health.qld.gov.au
via your own videoconference infrastructure, please dial 800036@health.qld.gov.au
via Telephone please dial 1300 590 084 followed by 800036
Related Events