Be an eSafe kid: Online boundaries – It's OK to say 'no' FREE Virtual Classroom
Tue February 9, 2021 @ 9:30 am

-

Thu July 15, 2021 @ 10:30 am

Free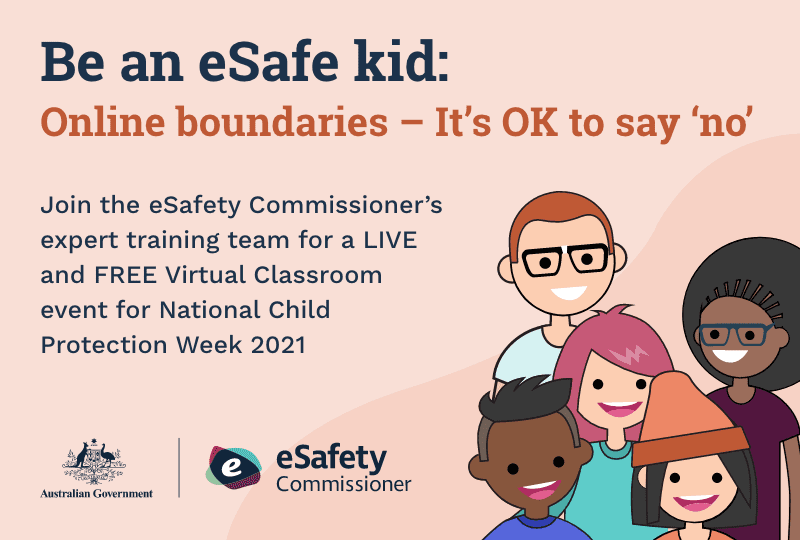 Using this resource
By the end of the learning students will be able to:
identify consent and permission in a variety of online settings
define and practise setting personal online safety boundaries
develop help seeking and reporting strategies.
The whole class participates in a live video lesson with a trainer. The trainer talks through PowerPoint slides and students complete a worksheet during the presentation. There are follow-up activities.
For more information about this Virtual Classroom webinar, please contact outreach@esafety.gov.au.
Downloads
These resources will include:
Lesson plans for Year 3 to 4
Lesson plans for Year 5 to 6
Student worksheet for use during webinar
Scenarios to allow students to identify boundaries and practise refusal skills
'I feel comfortable' activity
Glossary
Register now
Please note: We request that teachers only register their classes for these webinars. Individual student registration will not be accepted, as connections to the online platform are limited. Schools can register for any open session hosted by eSafety or a session hosted by your school jurisdiction.
If your students are learning from home and need individual connections, please contact outreach@esafety.gov.au.