Art Competition Submission 2023 – Kali from Carindale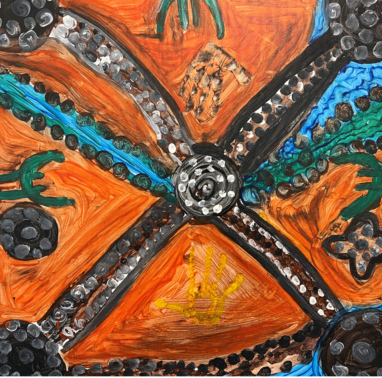 At Goodstart Carindale throughout our classrooms we have been working extremely hard at making this beautiful artwork for the NAPCAN art entry. Our art projects will then be used in our campaign (leading up to September) to help show that protecting children is about all of us working together. Our kindy children shared their safety commitment vision through an art mural project which reflects and draws on the voices, priorities, and strengths of the children at the service. Our kindy teacher talked about safety in our group discussions and conversations and the "Diversity & Inclusion as we gather on Yuggera land and where we all learn and grow together. While painting the children were engaged to explore own culture, beliefs, values, and strengths that is contributing to our rich and diverse community. We at Carindale embrace, advocate for and invest in the rights of all children to access and actively participate in our daily play and learning experiences to have a sense of truly belonging.
We have created an artwork on a canvas where the children are participating to create a safe learning vision of our centre. While painting our canvas, children were also listening to the Dreamtime stories where they were learning about the art of painting with different pattern and the significance of the Aboriginal Dot art. This artwork describes our cultures and Indigenous ways of communicating in safe learning environment.