Art Competition Submission 2022 – Kindergarten One from Yatala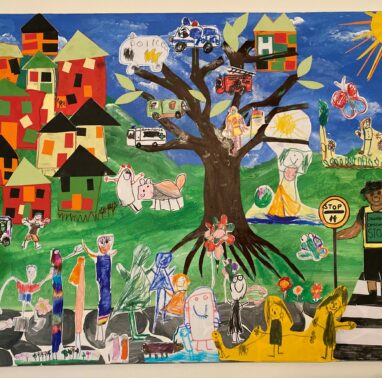 We are so proud of our creative piece of artwork that was created with Kindergarten One studio.
Each child had the opportunity to express themselves in what makes them have a sense of belonging, feel safe and enjoy their community.
We began our poster by discussing at group time what we love about our current community and all aspect of the community that make each child feel safe. Our Kindergarten One children utilised this time to express their understanding and what it looks like. We had numerous children suggest hospitals as safe place, "Hospitals make you feel better", "You go to the hospital from the doctors" and "You call 000". The children also expressed their love for different activities within their community, from visiting their library, to going to the park, chasing the ice cream truck, swimming at the beach and spending time with their loved one.