The AGC program is based in the Circle Solutions principles of respect, agency, positivity, inclusion, democracy and safety.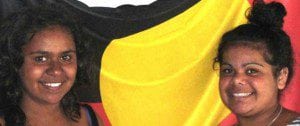 Circles provide a space in which young people can develop and learn awareness and understanding of their social and emotional needs and skills. Amongst other things, they learn about positive communication, taking responsibility for themselves and others, setting targets and conflict resolution. Most of the activities in Circles are presented as non-competitive games and are not reliant on academic ability. Students often engage enthusiastically with the learning and love the opportunity to discuss issues. Circles are never used to address incidents – there is no naming or blaming. Circles are taking place in schools across Australia and where facilitated according to the principles teachers are seeing positive outcomes in relationships, engagement with learning, resilience and behaviour across both primary and secondary sectors. Download the research article at the bottom of this page.
The AGC begins with discussion with community elders – without their support nothing is sustainable. We have been very fortunate in having very active support from elders in our pilot site in Dubbo.
The first activity takes place at a residential camp. This is where the girls begin to connect with each other and think about their lives, their communities and their futures. By the end of the residential they will have had lots of fun but also identified an issue they would like to address for the following year. So far the girls have chosen cultural awareness, what hurts and heals in racism, friendship and fighting and indigenous health – with a specific focus on diabetes. They have interviewed community and family members, made powerpoint presentations, constructed a book, developed a play and dance and have begun to plan an expo.
The older girls, having completed their in-school projects, move onto a service learning project in the community. This aspect of the AGC has only recently been initiated.
Dr Sue Roffey provides Circle Solutions training to teachers and community service providers, including those participating in the AGC.
Listen to a radio interview with Dr Roffey about it here.
Over the first 12 months of the program 2010-2011, all key stakeholders, i.e. the participants, teachers, community members and elders reported a positive impact on the girls in terms of their participation and increased confidence.
The University of Western Sydney has been involved in a research partnership project to determine the specific effects of the AGC for participants' resilience, wellbeing and connectedness, investigate and track the development of culturally appropriate tools and methods, and evaluate the relative effectiveness of various components of the program. This research has been funded by the Origin Foundation and is now in its final stages. The interim report has identified some clear positives alongside an awareness of sustainability issues. A copy of the research report can be downloaded by clicking on the PDF below.
The AGC program offers interested organisations or individuals the opportunity to help young Aboriginal women play a part in shaping their futures through Circle sponsorship, developing a trainer program and rolling this out further.
Watch this photo-film to see how the AGC connects high school girls, gives them a voice, grows leaders and 'solutionaries'
To find out more, please contact: [email protected]